You
belong
At the
Join us February 9 to 11, 2018
For the curious to the serious!
Join us February 9 to 11, 2018
have courage,
be kind
At the
Join us February 9 to 11, 2018
Join us at the 2018 Victoria Yoga Conference!
With a wide diversity of offerings from a new yoga student to experienced teacher only workshops, the Victoria Yoga Conference, in it's 6th year offers something for everyone.
Choose from over 50 sessions over two days
Programming includes yoga, meditation, dance, acro yoga, workshops, Wellness Market, music and more.
Attend our opening night gala with keynote speakers and awards, and visit our Wellness Market.
When is the Victoria Yoga Conference?

The 2018 Annual Victoria Yoga Conference will be held February 9 to 11, 2018.

How do I get to Victoria?

Tourism Victoria has an awesome list of options on getting to our beautiful city.

Where is the Conference taking place?

The Conference is taking place at the University of Victoria. We will be located in the Cadboro Commons building, the Student Union building, McKinnon Gym and potentially other buildings or spaces on campus. The Conference is happening during reading break so campus will be quiet. Rooms for specific classes will be assigned and attendees will be emailed the week of February 6, 2018.

Where do I go to pick up my registration package?

You will be emailed early the week of February 6, 2018 with full details.

What hotel should I stay at?

This year we have partnered with the Coast Victoria Hotel & Marina by APA. The rates are as follows (taxes not included):

Comfort City View – $105
Superior City View, One King Bed – $125
Superior Harbour View – One Queen or King Bed – $145

Contact the hotel at 250.360-1211 to book your room!

Getting to UVic?

If you choose to drive to UVic, we recommend that you park in Lot 5. Please click here to view parking prices and parking lot maps. There will be lots of parking as it is reading break for the students over this weekend. If you choose you could bike or take public transit to the campus, UVic has all the information on their website.

We will have a shuttle that departs the Coast Hotel at 7 am and returns from the University 30 minutes after the end of classes (7 pm Saturday and 6:45 pm Sunday). The meeting place at the University will be Lot 5. There will be a volunteer on the bus with you!

Can I sign up for single classes?

Single class passes may be available on the days of the Conference for classes that have space. Sign up for our newsletter to be notified of all VYC news!

Is the Wellness Market open to the public?

Yes the Wellness Market is free and open to the public on all three days of the Conference. Please view our exhibitors here.

Food and Beverage

We will offer complimentary water to all attendees. In addition we have a tea station with teas from Earth's Herbal and cold-pressed juices from Good Life Juice. You are encouraged to bring a refillable water bottle and/or travel mug to fill and take with you during workshops and events.

What to Bring with You

In addition to any personal items you like to have with you, please ensure you bring:

Yoga Mat and any props for floor seating
Journal/Notebook and pen/pencil
Water Bottle
Layers of clothes (depending on what room you are in and the level of activity you are doing, you'll want to be comfortable)
Cash or credit card for purchasing fabulous items in our market place from our vendors. There is ATM machines very close by.

Things to know before you arrive

The Victoria Yoga Conference is hosted in a scent free building. Please respect the comfort of others and enjoy a 'scent free' weekend.
No showers are available at the University of Victoria, you may be able to pay a drop in fee at the pool to use the showers there.

When you Arrive

There is no need to bring a printed ticket to the conference. We will have your name on a registration list and give you the appropriate ticket or wristband for your level of registration. Wristbands will be issued once and will need to be worn for the whole weekend in order to access classes and the marketplace.

Cancellation Policy

If you need to cancel for any reason you must notify us by Monday, January 18th, 2017 for a refund. Tickets cancelled before December 31, 2016 will receive a refund less 25% of your purchased ticket price; tickets cancelled between January 1st and January 18, 2017 will receive a refund less 50% of your purchased ticket price. If you need to transfer your ticket to someone else, you must do so by January 30, 2017 and there will be a $60 transfer processing fee.

Cancellations and transfer requests must be in writing by email to .(JavaScript must be enabled to view this email address)

After January 18, 2017, all tickets are non-refundable and non-transferable. We cannot issue partial-refunds or support partial-ticket-swaps of any kind.

In the unlikely event that the conference is cancelled, we will refund all tickets. We will not, however, be able to refund flight, hotel, or other purchases people may make. All listed speakers are confirmed - however, sometimes life events such as sickness or death in the family prevent them from making it at the last minute.
What you get
Please note that the FULL ACCESS PASS includes everything listed below (Friday to Sunday). A vegan buffet lunch will be available for purchase.
Saturday and Sunday Day Passes (available January 15th) do not include the Friday night event. That must be purchased separately if you would like to attend.
Now Available
Full Access Pass - $275
Available January 15, 2018
Friday Night, February 9, 2018 - $40
Saturday, February 10, 2018 - $140
Sunday, February 11, 2018 - $140
Click here to see the full schedule!
Register Now
Nestled in the trees at the University of Victoria, this conference is not to be missed.
These two buildings will host most of the events during the course of the weekend.
Student Union Building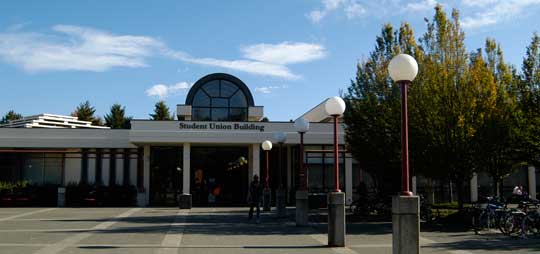 Cadboro Commons