Friday Night Kirtan
---
When: Friday, 7:00 PM (1.5 hrs (90 min))
Room: SUB: Upper Lounge
Description
Kirtan, from the Bhakti yoga tradition of India, is the practice of cultivating devotion and single-minded focus through call-and-response chanting. By repeating over and over the names of the Gods and Goddess, we invoke and manifest their energies within ourselves. These sounds vibrate within the physical and subtle body, quieting the mind and purifying the heart. Chanting together also calms and nourishes the nervous system, and induces a peaceful and blissful state of mind and body.
"Kirtan is food for the soul - a liferaft of song." - Jai Uttal
No experience is necessary and chant sheets will be provided.
Participants Need
For your comfort, please bring a cushion and/or yoga mat/blanket to sit on.
Single Session Fee $35.00
This session is available with a single-session pass.
---
Presented by: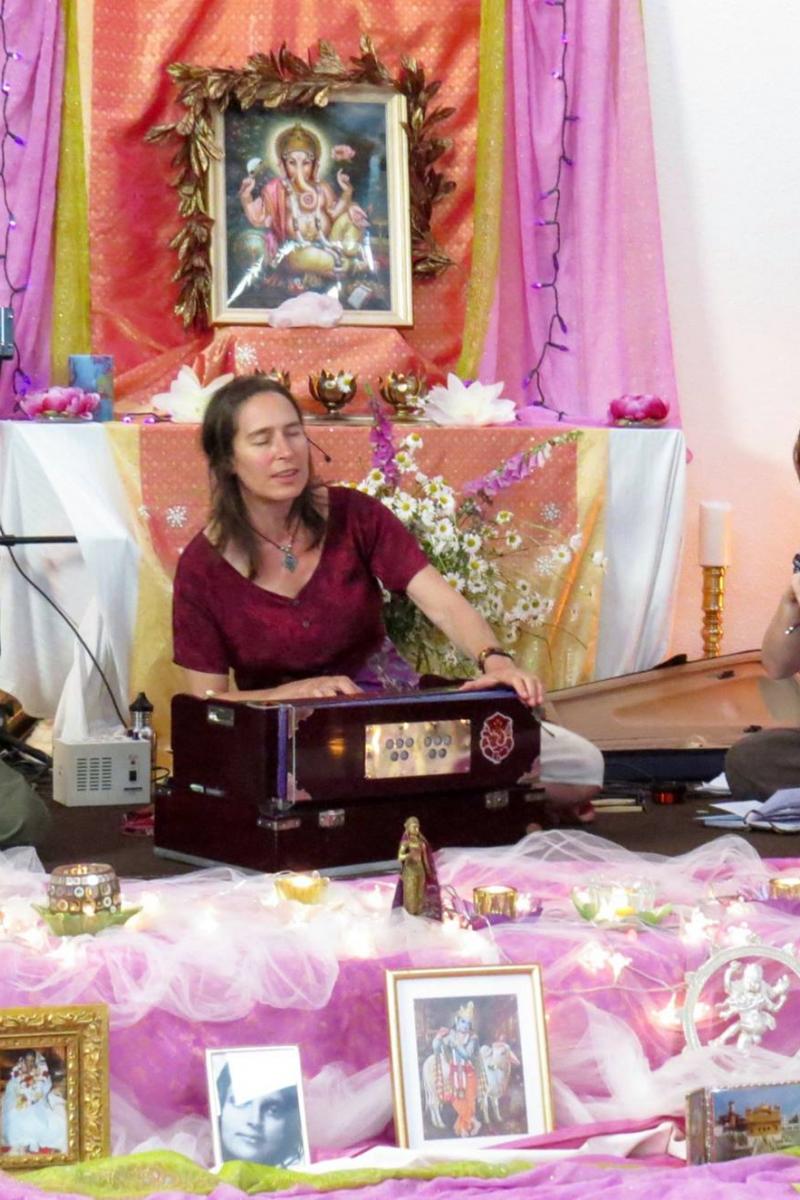 Presenter
Bhavantu Sound is a collective of committed yoga practitioners who use voice and sound to deepen and expand one's relationship with the Self. Ty Chandler, Tia Benn and Christopher Simons are united in their passion and commitment to integrating musical expression and sadhana (spiritual practice). Their music weaves together traditional and contemporary melodies with poignant harmonies. Harmonium, guitar and groove-oriented drums form a foundation for a collective expression of devotion that opens the heart and induces a meditative state of grace. Bhavantu Sound will be joined by fellow kirtan artists Kelly Yaskiw on vocals and harmonium and Damian Finegan on tabla.

Ty is a senior Iyengar yoga teacher and dedicated practitioner since 1989. She has been deeply inspired in her journey by Faeq Biria and by the teachings of Reggie Ray, HWL Poonjaji and Mata Amritanananda Mayi Ma.

Tia has been on the path of yoga and meditation since her mind and heart were blown open at her first Vipassana retreat in 1996. She is committed to music as yoga, a spiritual practice that began with kirtan in 2009. She has studied with Yoga of Sound teacher Russill Paul and is a devotee of Shri Anandamayi Ma.

Christopher dove into yoga asana as therapy for PTSD in 2004 and is deeply grateful to the teachers at Iyengar Yoga Centre in Victoria. In 2012 he met Swami Dayananda Saraswati and has been a devotee of Vedanta (Shankaracharya lineage) ever since under Dayananda's disciples, in particular Carol Whitfield and Swami Vagishananda Saraswati.

Bhavantu Sound is grateful for the opportunity to offer and share kirtan on the traditional territories of the W̱SÁNEĆ and Lekwungen peoples.